Little Miss Hologram is a blue, round Little Miss with yellow hair, a pink flower in her hair, a fuchsia n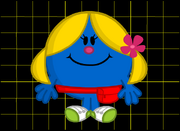 ose, a red fanny pack, and green and white sneakers. She was created by MrMenCentral and is the only character who is always shaded.
About Her
Edit
Color: Blue
Shape: Round
Nose: Fuchsia oval
Hair: Yellow hair in pigtails
Relatives: none
Friends: The rest of the characters
Rivals: none
Likes: The hologram room
Dislikes: Being outside the hologram room, because she can only be seen inside it
Features: red fanny pack, green and white sneakers, flower in her hair
Catchphrase: unknown
Ad blocker interference detected!
Wikia is a free-to-use site that makes money from advertising. We have a modified experience for viewers using ad blockers

Wikia is not accessible if you've made further modifications. Remove the custom ad blocker rule(s) and the page will load as expected.