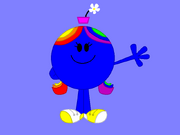 Little Miss Weird is a fan-made Little Miss created by MrMenCentral. She's known for her weird word combinations, her frequent use of the letter Q, and her thing for Borys. (
Mr. Bory
better run!)
About her
Edit
Little Miss Weird is the older sister of Little Miss Quirky. She is exactly 2 years older than Miss Quirky. On January 10, 2010, at exactly 3:14, Mr. Q gave her powers like his. She has kept silent about this for 4 months (with only Miss Quirky knowing), but in The Mr. Men Movie, Mr. Q told her, "There's only one way to get out: use your powers!" Miss Consider said, "You can square and cube yourself?" Miss Weird replied, "Not that kind of powers! Powers like Mr. Q has. I've had them for 4 months now!" Miss Weird still has her powers today, but she's much less shy about it.
Ad blocker interference detected!
Wikia is a free-to-use site that makes money from advertising. We have a modified experience for viewers using ad blockers

Wikia is not accessible if you've made further modifications. Remove the custom ad blocker rule(s) and the page will load as expected.