Miss Beanie is the fan-made Miss sona of Beaniet85.
About her
Edit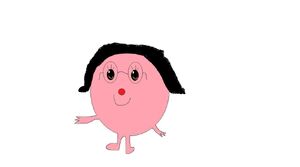 Miss Beanie is a pink circle with curly dark brown hair, brown eyes, a red nose, and wears glasses. She is a very kind-hearted, friendly, polite, and caring Little Miss who is willing to make friends with anyone, and would never harm them. Mr. Brainiac is her best friend, because they share the same interests and have similar personalities. Her other friends include Mr. Normal, Goldie, Maci, and Jordan. She was not born in Dillydale, but on Earth, however Miss Beanie has long since moved back her home world.
Miss Beanie's friends are:
Mr. Happy, Mr. Funny, Mr. Grumpy, Mr. Nosey, Mr. Noisy, Mr. Chatterbox, Mr. Nonsense, Mr. Silly, Mr. Impossible, Mr. Topsy-Turvy, Mr. Bounce, Mr. Small, Mr. Mischief, Mr. Tickle, Mr. Scatterbrain, Mr. Stubborn, Mr. Bump, Mr. Predicament, Mr. Normal, Mr. Brainiac, Mr. Unbirthday, Mr. Colorful, Mr. Stupid, Mr. Muddle, Mr. Cocky, Mr. Dynamite, Mr. Atomic, Little Miss Contrary, Little Miss Whoops, Little Miss Calamity, Little Miss Stubborn, Little Miss Scatterbrain, Little Miss Naughty, Little Miss Tiny, Little Miss Helpful, Little Miss Chatterbox, Little Miss Curious, Little Miss Loud, Little Miss Magic, Little Miss Giggles, Little Miss Sunshine, Little Miss Independent, Little Miss Unpredictable, Little Miss Nostalgic, Little Miss Literal, Little Miss Sexy, Little Miss Fangirl, Little Miss Fortune, Goldie, Nosekina, Noisettia, Pipsquirtia, Maci, and Jordan
Miss Beanie's enemies are:
Mr. Crosspatch, Mr. Rude, Mr. Mean, Mr. Uppity, Mr. Hypocrite, Anti-Brainiac, Dark Normal, Evil Beanie, Little Miss Selfish, Little Miss Vain, Little Miss Splendid, Little Miss Proper, Little Miss Ruthless, Madame Mal-eleve, Mr. Disaster, Mr. Evil, and Mr. Shadow
Ad blocker interference detected!
Wikia is a free-to-use site that makes money from advertising. We have a modified experience for viewers using ad blockers

Wikia is not accessible if you've made further modifications. Remove the custom ad blocker rule(s) and the page will load as expected.