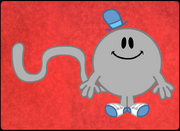 A gray, round Mr. Man with a tail, blue and white sneakers, and a hat like Mr. Scatterbrain's. He was created by MrMenCentral.
About Him
Edit
Color: Gray
Shape: Round
Nose: none
Hair: none
Relatives: unknown
Friends: Miss Unpredictable, the rest of the characters
Rivals: Miss Scary
Likes: Glowing in the dark
Dislikes: Losing his glow
Features: blue hat, blue and white sneakers, tail
Catchphrases: unknown
Fun Facts: He glows in the dark!
Ad blocker interference detected!
Wikia is a free-to-use site that makes money from advertising. We have a modified experience for viewers using ad blockers

Wikia is not accessible if you've made further modifications. Remove the custom ad blocker rule(s) and the page will load as expected.